How To Choose the Right Product Packaging
First impressions are important. Consistent quality and delivery, even more so. In the ever-competitive e-commerce landscape, hitting the right notes with your packaging is crucial. You could have the best product in the world, but if the packaging is bland or the orders get damaged while in transit, you're back to square one. In this article, we'll help you make sure your products are always protected using custom packaging boxes.
How to measure box packaging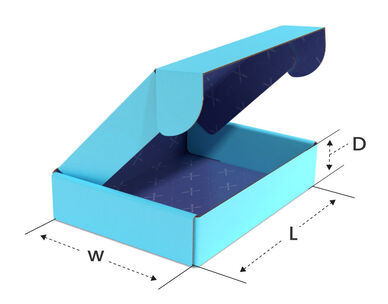 To start things off, you will need to get the right measurements to make sure your products fit inside the packaging box perfectly. If a box is too big, the products inside might get dislodged or rattle around. If a box is too small, the product could get damaged if you attempt to remove it or make it fit. Follow these simple steps to get the right measurement for your custom box:
Place your product on a smooth, flat surface.
Measure the long side of the item, rounding up to the nearest inch.
Do the same for both the width and the height.
Add 0.5" to 1" to the final measurements (L x W x H) to give enough space.
Choose the Right Box Type for Your Packaging
Once you have the correct measurements for your package, the next step is to choose the right box type. Packola offers three different boxes, each of which works well with specific purposes.
Product Boxes - Put the spotlight on your product with these custom boxes. The full-color printing, together with the finishing coat, provides an eye-catching effect that makes your items stand out.
Mailer Boxes - The perfect packaging solution for businesses, especially e-commerce. These custom boxes add an experiential element to your products.
Shipping Boxes – These are durable custom boxes made of corrugated cardboard. Shipping boxes are durable and are designed to handle heavy, larger items.
Select the Right Material for Your Packaging Design
Another important decision to make is the choice of packaging material. Cardstock gives a brilliant sheen but corrugated cardboard literally does the heavy lifting. Which one should you pick? Here's a rundown of the materials we use, together with available coatings to bring out the best of your products.
Cardstock
14 pt. Cardstock – Durable cardstock option with roughly the same thickness as a standard business card. Ideally used for small, light items.
18 pt. Cardstock – Thicker and more rigid box material. Best for medium-weight products.
24 pt. Cardstock – The thickest cardstock option we offer. Can handle heavy items or multiple products inside.
When you choose cardstock, you also need to pick the finishing coat to go with it.
Glossy Aqueous Coating – Make images pop with a glossy finish. Colors are more vivid, making this a good option for image-heavy designs.
Matte Aqueous Coating – Adds an elegant, muted finish to your packaging. Best used with text-heavy designs.
High-Gloss UV Coating – Gives your boxes an extra glossy finish. The coating gives an extra layer of protection against scratches and scuffs.
Corrugated Cardboard
Standard White Corrugated Cardboard – Our most popular cardboard material. Surface provides excellent writability.
Premium White Corrugated Cardboard – Provides a slight sheen on the box's surface. The ideal box material where a sophisticated look is required.
Premium White Corrugated Cardboard With Glossy Ink – Highlight specific areas of your design with a shiny finish. Lends a premium, elegant look.
Kraft (Brown) Corrugated Cardboard – Gives your packages a natural, artisanal look. Perfect for minimalist designs.
Packaging Size and Why Dimensions Matter
If you carry a large product line with every item differing in size, it's important to be both practical and tactical in your approach to packaging. Ordering custom packaging boxes in bulk is the most cost-effective solution but you should also consider the way your products fit inside.
The best thing you can do is to lay out your products and measure them. Next, you can simulate how products are normally grouped. This will give you a rough estimate of the dimensions you will need. Try to get one or two measurements that fit your product mix perfectly. This is important for subscription boxes with flexible contents. Next, order sample boxes from Packola so you can observe firsthand how each item fits. You can tweak the dimensions before ordering a large batch for production.
Know What Type of Audience You're Designing Custom Packaging For
Knowing your target market has always been one of the most important rules in business. This also holds true for your packaging decisions. Do your homework and find out what makes your audience tick. Do you offer a niche product with a specific target market or does it cater to everyone? Are your customers fans of freebie stickers, are they the type to appreciate custom tissue paper, or are they straightforward and would a simple, no-frills box instead? Being able to answer who your customers are will give you a glimpse of their preferences.
Final Thoughts
Choosing the right packaging is not a walk in the park. It involves time, effort, and a lot of preparation. Once you put in the work, you'll immediately see the difference. Your product packaging is a reflection of your brand. Customers will immediately notice if your boxes are haphazardly put together or if you put in some extra thought into making sure they're perfect.
Make your packaging stand out right from the get-go. Design your custom packaging boxes today with Packola.