Get it FAST! Expedited Production available.
Custom Shipping Boxes – Corrugated Cardboard Boxes
High quality printing on durable Corrugated Cardboard.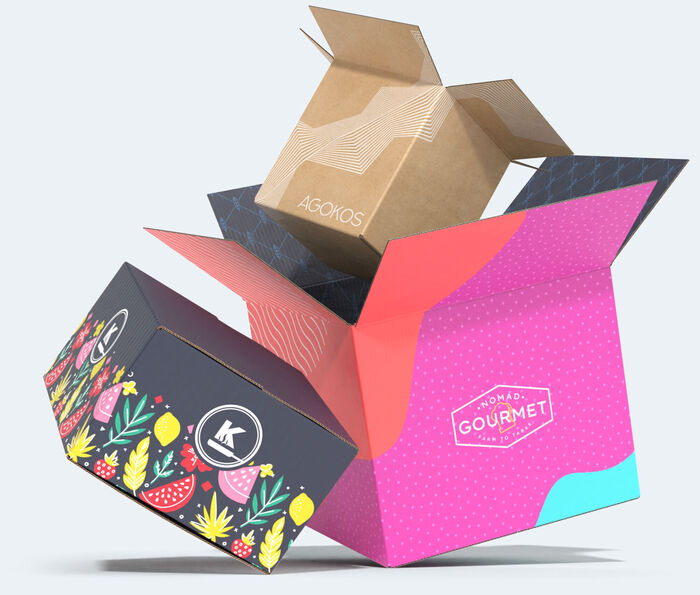 Value Props



High Quality
Full-Color Printing
Super Responsive Customer Service

Sustainably Sourced and Recyclable
Corrugated Material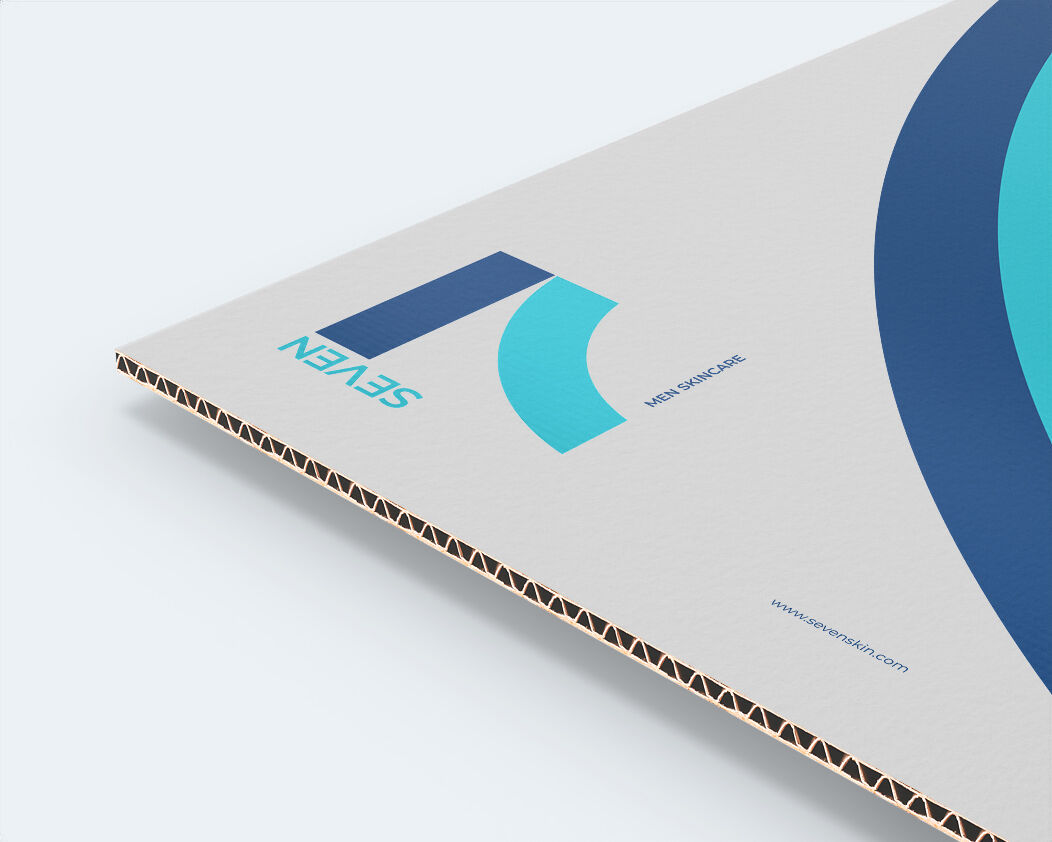 Standard White with Matte Ink (HD Print)
Our most popular box material. Comes with a white base and matte finish. The HD Print process delivers lithographic level print quality with the convenience of digital.
Premium White with Satin Ink (HD Print)
A premium option that has a smooth surface and an elegant satin finish. HD Print uses small ink dots to make the intricate details of your design stand out.
Premium White with Glossy Ink
High-gloss UV ink is used on the printed areas to elevate the design and add an even more luxurious look.
Kraft (Brown) with Matte Ink (HD Print)
Master the minimalist look with kraft cardboard material. This rustic material option is perfect for eco-conscious brands. It uses water-based inks and is 100% recyclable.
Material Thickness
1/16" E-Flute Corrugated Cardboard
Lightweight and durable corrugated cardboard material. Perfect for fragile items such as glass and ceramics.
1/8" B-Flute Corrugated Cardboard
Thick and strong corrugated cardboard material. Suitable for heavy items such as canned goods, beverage bottles, and the like.
Printed sides
Outside Only - Full Color
Only the outside of the box will be printed on.
Inside Only - Full Color
Only the interior of the box will be printed on.
Outside & Inside - Full Color
Full Color - Both the interior and exterior of the box will be printed on.
No Printing (blank)
Your custom box will arrive plain with no print.
Dimensions
Technical Structure Name
Regular Slotted Container (RSC) - The most popular box style for mailers. Two outer flaps are used to lock the box in place.
Shipping Boxes are the Smarter, Sturdier Way to Ship Larger Products
In the world of online retail and booming e-commerce, shipping your products safely and reliably to customers is of paramount importance. That's where Packola offers an innovative and sustainable solution – our custom shipping boxes.
Our shipping boxes are crafted with high-quality materials to ensure your products reach your customers in pristine condition. They are made from durable, impact-resistant corrugated cardboard; these boxes are designed to absorb impact, minimizing scratches and dents that could harm your items during transit or storage. Notably, they can handle packages weighing up to 30 lbs with ease.
Sustainability is at the core of our mission. Our corrugated shipping boxes are not only sturdy but eco-friendly as well. Sourced sustainably and 100% recyclable, they allow your business to reduce its environmental footprint.
What sets our custom shipping boxes apart is the level of personalization and customization we offer. Our user-friendly online tool empowers you to design shipping boxes that don't just protect your products but also strengthen brand recognition and reputation.
Choose Packola for your shipping needs and experience the difference our custom shipping boxes can make for your business.
Frequently Asked Questions
Q:
There's a QR code printed on my custom shipping box. Is it a printing mistake?
A:
No. The QR code is a recent implementation to improve our production process. We assure you that it'll always be printed on a hidden area to avoid compromising your original design.
Q:
How do I know what box size I need?
A:
Start by measuring the items you want to put inside the box. You can assemble and group the products together to simulate how it would look like packed inside. Measure the length, width, and depth of the space it occupies. Add an inch or two on the sides to make it easy to pack and unpack.
Q:
How to Order Custom Boxes With Packola.com?
A:
Here's a step-by-step guide on how to order your custom boxes from Packola.com.
A:
Yes. For a competitive price, you can order a sample with your own artwork and dimensions. Please set Quantity to "1 sample" on the configuration widget and proceed to order.
Q:
Do you offer Free Samples?
A:
No. All samples are made to order with your own artwork and dimensions. We do not offer pre-made samples or material kits.
Q:
How long will it take for my boxes to arrive?
A:
We offer Standard (12-15 business days) and Rush (6-8 business days) production turnarounds. Depending on your location, Standard Shipping will take 1-6 business days once production is finished. If you have a tight deadline, please contact us to make sure your deadline can be met."
Q:
I am a reseller. Can you waive my sales taxes?
A:
Yes, however, we need you to submit your resale certificate before placing your order. We have limited ability to refund sales taxes after an order is placed.
Q:
How can I design my box?
A:
We have an Online Design Studio that makes it super easy to add logo, texts, and graphics to your box within minutes. You may also design using a professional desktop application like Adobe Illustrator® and send us a complete artwork.
Q:
Do you charge extra based on the number of colors and the amount of ink on the box?
A:
No. You may cover your box with as many colors as you want at no extra charge.
Q:
Are shipping boxes reusable?
A:
Yes, our shipping boxes can be reused, repurposed, and recycled. We recommend upcycling the boxes in-house and not using them to ship products again to customers.
A:
RSC stands for regular slotted container. It is the most common box style for shipping and storage boxes. It's characterized by two outer flaps that meet at the center and needs to be sealed with packaging tape.
A:
FOL stands for full overlap box. The flaps of the box extend all the way to the opposite side. This adds extra padding and increases durability and protection.
Customer Reviews
Marte Carlson
Outstanding product and service!
I want to tell you how impressed I am with these boxes! The printing is perfect, the boxes themselves are AMAZING quality and super sturdy! I am so impressed with the turn around time as well! Thank you so much, you have earned yourself another customer! We will be sure to spread the good words too!
Dominique Treadwell
D4L (Down for Life!) - Forever a customer
I have loved Packola since my first order. This is only my second order for my business, but I feel so confident in ordering an even more massive order because of the wonderful way they supported my first order. I appreciate their attentiveness to our project, their communication, and the boxes are
Carla
Appreciate the support
My box looks wonderful, thank you so much. I had issues with the editing process, but in the end it worked out fine. Customer service helped me out each step of the way, even providing me with a design element when mine wasn't sufficient. I appreciate the level of the support. You all definitely have my business.
Edward Heisler
Great Product! Fast Delivery!
Great Product! Fast Delivery! I highly recommend. The box were made to our exact specifications. We did not have to choose from a stock size, or pay any special die fees. Excellent! Packola is from now on our preferred choice for packaging. Thank You Packola!
Greg Nieberding
First Job with Packola…
I am a print broker and first-time Packola customer. I needed 800 boxes for a client to ship client Christmas gifts. They needed in 10 days or less, and they were still working on artwork. Packola not only turned the job around and delivered FOUR DAYS early, but they were able to add 80 additional boxes to the order in mid production and STILL get the job to me early. No hidden fees or tricky billing. Totally easy and I am skeptical of online production orders of this size. Packola has earned my trust and I recommend them highly.
HJV
WOW - both the staff and the boxes!
The staff at Packola are professional and helpful. Having never had the need for shipping boxes, their expertise and support were greatly appreciated. The finished product not only met our needs but presented our organization in a way we had never imagined. The WOW factor of a custom shipping container cannot be underestimated
Jacquie
I placed an order for a Sample Shipper…
I placed an order for a Sample Shipper Box that was branded inside and out. It came out BEAUTIFUL! Exactly what I was hoping for. Just reordered in a larger quantity and I'm designing another box today for a different product line. The quality of the box and the printing are just wonderful. I couldn't be happier with my order.
Dennis Garett
We had a great experience!
We had a great experience working with Packola! We had a handful of questions that were answered well by customer service and we are very happy with the quality of the boxes we received!
Lauren
Excellent finished product
Working with Packola has been a wonderful experience. I needed boxes that were functional for shipping yet also professional. The end product far exceeded my expectations. I will absolutely use them again for my business.
Corrugated Shipping Boxes vs. Cardboard Boxes
When should you use corrugated shipping boxes over regular cardboard? The biggest consideration is size and weight. Corrugated cardboard can hold hefty packages better than cardboard, even if a liner is used. The cardstock for product boxes is close to the thickness of a credit card, whereas corrugated cardboard is much thicker and is made up of three layers.
If you're transporting heavy or large items, such as appliances and electronics, it's better to go for a corrugated cardboard box. If you need a box for small and light items, such as pens, perfumes, or other cosmetic items, a cardboard box is best.
How to Use Corrugated Shipping Boxes
Because of its lightness and strength, corrugated cardboard boxes offer a lot of utility. For businesses, these can be used to transport inventory from the warehouse to retail stores. You can also use branded shipping boxes as tertiary packaging, protecting the boxed product while it's on its way to customers. Since these are lightweight, you don't have to worry about exorbitant shipping fees, too.
Superb Uses for Shipping Boxes
Wine Boxes – Whether you're selling homemade brews or subscription boxes you've curated, a sturdy box is as crucial as the wine's vintage. Bottled items are heavy so box strength is extremely important. Our shipping boxes can handle heavy loads, especially when paired with packaging tape.
Clothing & Apparel Boxes - Shipping boxes are ideal for sending multiple articles of clothing. It's more economical as opposed to using separate packaging for each product and minimizes the risk of other items getting lost in the mail. Using a big box also lets you have space to include giveaways and freebies such as custom stickers.
Toy Packaging Boxes – Toys and games can have a lot of components and delicate parts. Use a durable and lightweight shipping box to package your playthings. The impact resistance ensures the items inside won't get damaged while it's in transit.
Tertiary Packaging – You can use shipping boxes to augment your primary or secondary packaging, such as big subscription boxes. Doing so protects the products inside, making it more presentable while furthering the unboxing experience at the same time.
Delivering Your First Shipping Box
Still on the fence about the benefits of custom shipping boxes? We have a curated selection of articles you can peruse about the benefits of custom boxes and how they can ultimately be a boon to your business.