Out of the Box Ideas for Your Corrugated Cardboard Boxes
Now that a big bulk of shopping is done online, our homes are slowly overflowing with boxes. Amazon packages, product subscriptions, gifts, and even moving boxes pile up before you know it. You can throw them out together with the trash, but that wouldn't be environmentally responsible. What can you do then?
Recycle, reuse, and repurpose them! Cardboard boxes aren't single-use products; they're designed to withstand long travel and protect what's inside. Get your art supplies ready, It's DIY time!
13 Creative Ways To Upcycle Boxes
1. Build box forts – Large boxes don't have to take up space doing nothing. Unleash the kid inside with a DIY fort or house for your children or you to play with. We won't judge. Durable corrugated cardboard boxes are perfect foundations for forts. Add blankets and pillows are you're set. You can even use smaller boxes as accents or furniture.
Image from Pinterest
2. Create a ball maze – Another great DIY project to do with the children. You can cut up a large cardboard box and use smaller sections to act as tubes, traps, and ramps. Let your child decide where to place each section so that they can learn what effect different lengths and angles have.
Image from ahappywanderer
3. Make a car costume for Halloween – Do your best Lightning McQueen impression and say 'kachow' with a DIY costume for Halloween. You can craft one for yourself, for your children, or the whole family. The simplest way to do it is to decorate a large cardboard box and add a few straps to hang it over your shoulders.
4. Entertain with puppet theater – Entertainment for your children should go beyond gadgets and screen time. Add a creative spin to their playtime with DIY puppet theater. Get a large box and create a generously-sized window for the show. You can use lights for shadow play or go further into the DIY route with finger puppets.
5. Keep a keepsake box – Corrugated cardboard boxes are durable and will last for a long time. You can use them to store keepsakes, jewelry, or other valuable items. Mailer boxes are perfect for this as they can lock by themselves. You can keep the box plain as-is to look nondescript, or decorate it as you see fit.
6. Scratching pad for cats – It's no secret that cats are obsessed but boxes. With this DIY project however, your furniture will heave a sigh of relief. Prevent unsightly scratches on your sofa and chairs by providing your cats with this easy to craft toy. Cut cardboard in four inch strips and roll it into a large spool. It's that easy. Watch them go wild with it!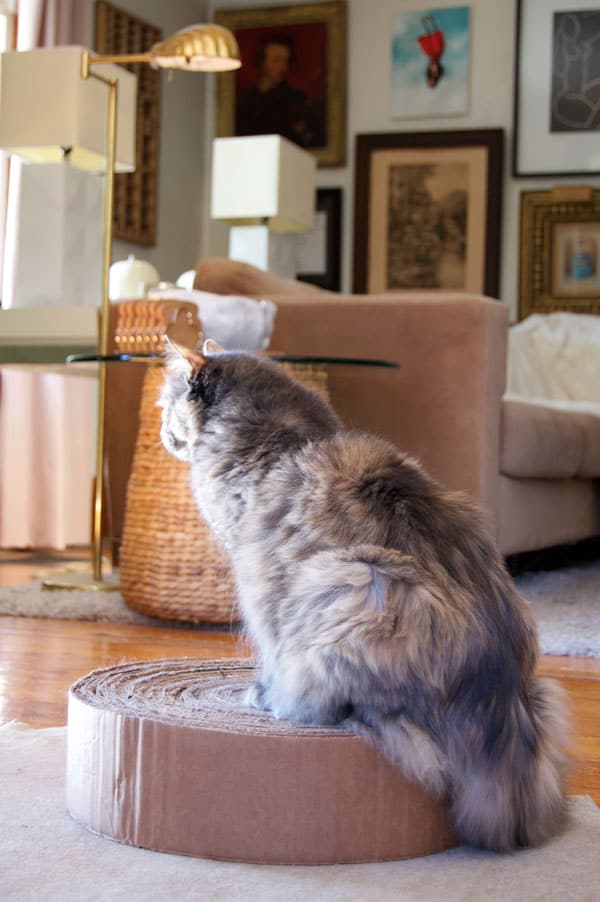 Image from theartofdoingstuff
7. Protect your garden from weeds – Unwelcome weeds are a problem and an eyesore for every garden. It's a chore to have to pull them out one by one constantly. Corrugated cardboard can help you out with this. Place flat pieces of cardboard on weed-prone areas of your garden. Water it thoroughly so it stays put. Cover it with soil, and your weed problems will vanish soon.
8. Make music – You can create musical instruments using cardboard! Get a product box, cut a round hole in the middle, and add the strings. Don't forget to use a small piece of cardboard to use as a raised bridge, too. Make sure to use a durable box, so it doesn't buckle under the tension of the strings you're using.
Image from minieco
9. Create a canvas from scratch – You can use shoe box tops or cardboard sheets as blank canvases for art. Paint it over with primer or white paint and let it dry. You now have the foundation for your next artistic masterpiece.
10. Organize hair ties – Do you keep on losing your hair ties? You can repurpose used cardboard boxes to hold hair ties and other beauty or grooming products at home. Think of a design that has a lot of vertical elements, like skyscrapers, cacti, or in this case, a bunch of ice cream cones and popsicles. Plot your design on the box and cut. Repaint the surface with your design and you'll have an awesome organizer in no time.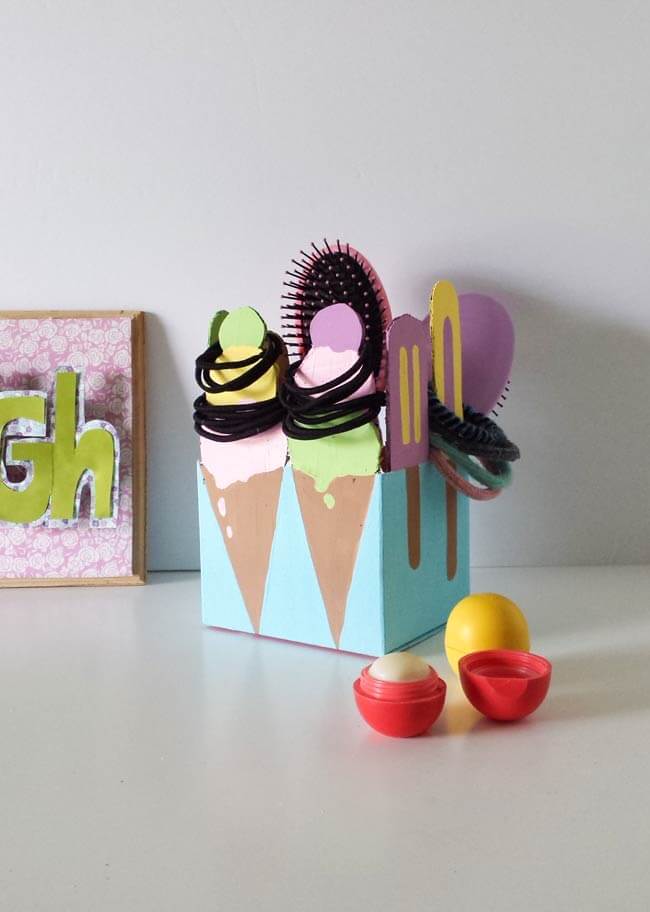 Image from fancymomma
11. Belted storage totes – Create more storage space without sacrificing style points. You can decorate used cardboard boxes and reuse them at home or at the office. Adding a belt as an accent gives it a fabulous look while at the same time, makes it easy to move and transport.
Image from Brit + Co
12. Drawer dividers – Declutter your drawers at home or in the office by adding dividers. You can keep your stuff neat and tidy with DIY dividers made from old corrugated boxes. Plan ahead if you want to keep the sections uniform or if you want different sizes for different things. You can keep the cardboard pieces plain or decorate it with wrapping paper or colored tapes.
13. Shoe Rack – Organize your shoes at home without spending a dime. You can cut cardboard pieces and fold them into a triangular shape, stack them, and insert your shoes, sandals, and slippers. Make sure to measure each piece to fit your specific shoe size.
Image from apieceofrainbow
---
Feeling Inspired?
Corrugated cardboard is an extremely versatile material, both for packaging use and for DIY projects. It's 100% recyclable and shouldn't be thrown out for no reason. We hope that these fun ideas inspire you to think of creative ways to upcycle your goods and become more socially aware and environmentally conscious.
Get Production Started: Choose Your Box Style