Custom Printed School Boxes
High quality printing on durable Corrugated Cardboard.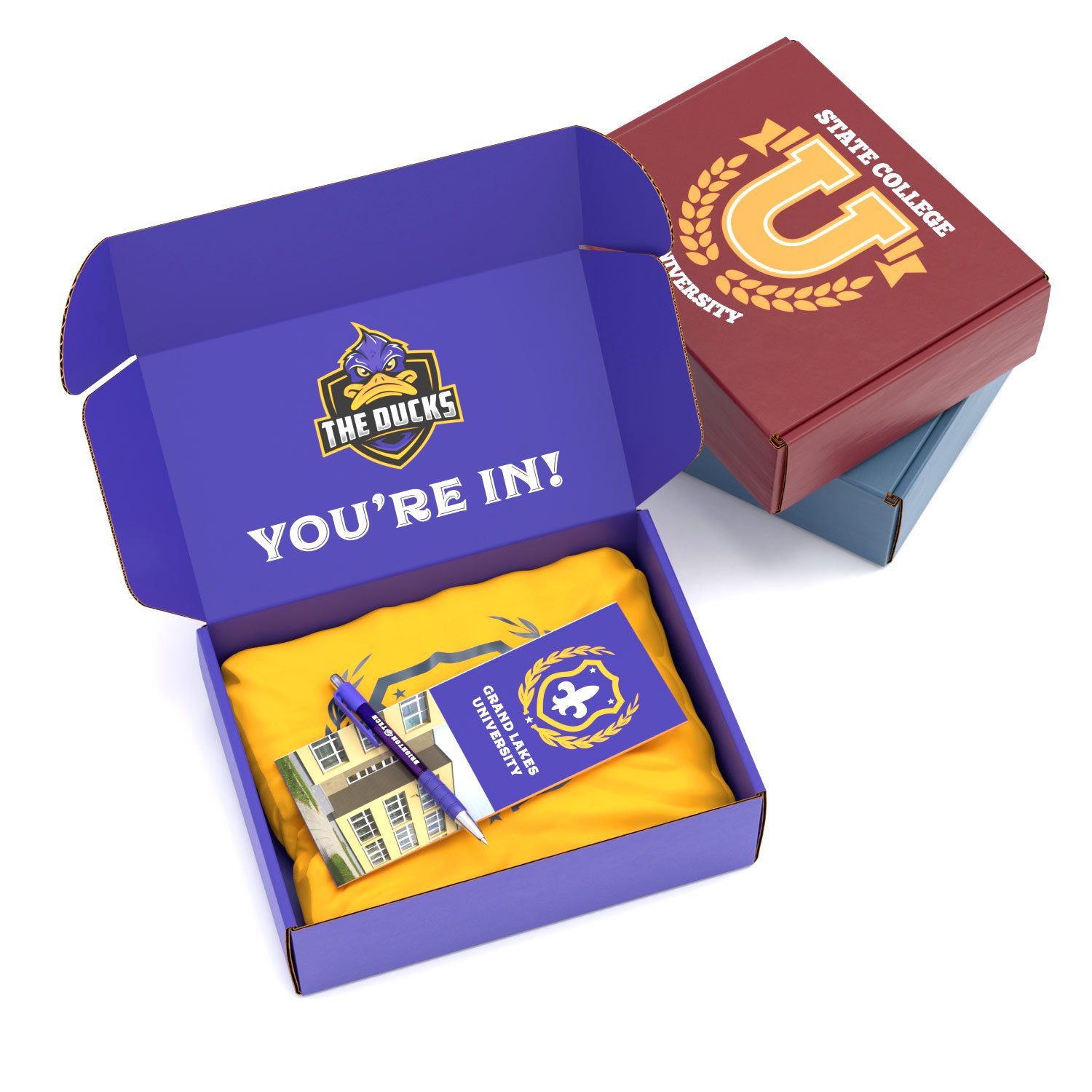 Value Props



High Quality
Full-Color Printing
Super Responsive Customer Service

Sustainably Sourced and Recyclable
Promote Your School Spirit With Custom School Boxes
School events and activities are great in fostering a sense of school pride and camaraderie. But if you truly want to make a lasting impression on the whole student body, the best way is to make these events extra special by giving away custom school boxes that contain tokens or items that they can use or keep forever.
A Box for Different Occasions
Custom school boxes are perfect for any occasion or school activity. From size to design, you can easily personalize these boxes so they match the overall theme of the event as well as accommodate the things that you want to store in them.
Welcome Kits
For new or returning students alike, give them a warm welcome with back-to-school boxes or welcome kits. These boxes may contain several handy items that are used for studying, such as custom pens, notebooks, sticky notes, and more. If you want to provide an unforgettable unboxing experience while promoting school spirit, make sure the design incorporates your school colors or insignia.
Prom Boxes
Prom is probably one of the school events that students look forward to the most, so why not bring it to the safety and comfort of their homes? Send them prom boxes filled with various items like tumblers, cosmetics and grooming kits, custom buttons or keychains, personalized accessories, and even food or snacks.
Graduation Boxes
Go all out in promoting school pride in your graduation boxes. Design the boxes from top to bottom with your school logo, colors, motto, and even the school mascot. You can even add a congratulatory message on these custom school boxes to show your support for their achievement and hard work over the years. If you want to make sure your students will always remember their alma mater, use graduation boxes to send them class photos, school shirts or hoodies, and other souvenirs that they can take with them wherever they go.
Full School Box Specifications
Interior Dimensions

Customize based on the following ranges:

Length: 3" x 25"
Width: 2" x 25"
Height: 1" x 15"


Material



Corrugated Cardboard

Standard White Corrugated Cardboard
Premium White Corrugated Cardboard
Premium White Corrugated Cardboard with Glossy Ink
Kraft (Brown) Corrugated Cardboard


Printed Sides



Outside Only - Full Color
Inside Only - Full Color
Outside & Inside - Full Color
No Printing (blank)


Quantity



Turnaround Time



Standard: 10-15 business days
Rush: 6-8 business days
How to Design Your Custom School Boxes
Here at Packola, you can create the design of your custom school boxes without exiting the website. Here's a helpful step-by-step guide:
Step 1. Click Design Your Mailer Box Online. Right after configuring the specifications of your boxes, you can go directly to our online 3D design tool and start personalizing the design of your school boxes.
Step 2. Insert your school logo or other images. You may opt to start by inserting your school logo or other images on the design of your custom boxes. Once you have uploaded the files and you can see them on the 3D design tool, you can crop, resize, and reposition the images.
Step 3. Modify other graphic elements. If you want to add more shapes, lines, or patterns to your custom school boxes, you can do that by clicking the Add Shapes or Lines option found on the left panel of the screen. You can also change the background color to make sure that it matches your school colors or the theme of the occasion.
Step 4. Double check the specs of your boxes. You can check the specifications of your custom boxes for the last time or modify the size, material, printed sides, and more straight from the online 3D design tool. Just click on the Modify the Box Specs option on the left panel.
Step 5. Save Project or Add to Cart. Once you are satisfied with your design, you can proceed to placing your order by clicking Add to Cart. But if you still need more time, simply save your project and retrieve it later.
Get Your Free Dieline Templates from Packola
If you are a graphic designer or know someone who can design your custom school boxes for you, you might prefer to use other professional design applications such as Adobe Photoshop or Illustrator. We can make the job easier for you by sending you a dieline template of our boxes. Just click on Order Now and Receive a Dieline Template below the built-in price calculator on our website.
Frequently Asked Questions
Are your custom school boxes durable?
Yes, they are. We use high-quality corrugated cardboard material for our custom school boxes. It is lightweight but handles heavy loads with ease. Its fluted core also provides impact resistance.
Do you have minimum order quantities for school boxes?
No, we do not. You can order as few or as many school boxes as you want.
Can I order a sample school box?
Yes, you can. Select '1 Sample' from the Quantity dropdown on the product page. The production time for samples takes 3-5 business days. Take note that this does not include weekends, holidays, and delivery.
Order your custom school boxes today!